Success of the recording of the ensemble AFFETTO in Paris, August 2006
The vocal-cycle PASEJAMÁ (by Miloš Orson Štědroň) recording (first time performed in Berlin, September 2004) made by Affetto ensemble in the Czech Broadcast studio Brno in September 2005 was selected to participate in the final round of EBU (European Broadcast Union) Young Composers International Tribute Competition and obtained one of the main awards.
---
Puella Trio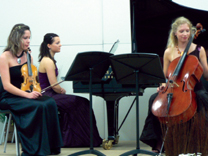 Puella Trio ensemble participated in the 21st international music competition Rovere d´Oro in the Italian town of San Bartolomeo al Mare, and was awarded with the 2nd prize.
---
Lada Biriucov sings Wagner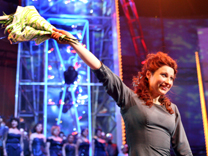 More then 2.500 visitors in Hala Ludowa in polish Wroclaw witnessed enormously successful production of Wagner opera Gotterdämmerung of the Wroclaw opera company under the stage direction of Hans-Peter Lehmann.
---
AFFETTO at the Kroměříž castle
The vocal experimental ensemble AFFETTO performed on 25th of July at the 7th festival "Music in Gardens and in the Castle".
---
Lukáš Vondráček in Teatro Manoel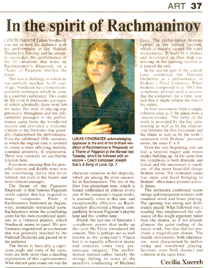 On 16th May 2006 the young Czech pianist Lukáš Vondráček performed with the National Orchestra of Malta.
---
The Czech Philharmonic Choir of Brno performed on 6th and 7th April 2006 in Luxembourg's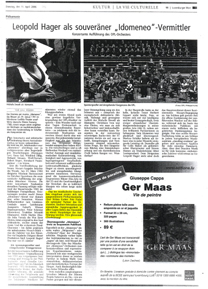 The Czech Philharmonic Choir of Brno performed on 6th and 7th April 2006 in Luxembourg's concert hall Neue Philharmonie with Orchestre du Luxembourg. There were two performances of Mozart's Idomeneo – concert version, under the baton of Leopold Hager. Both the performances received great critical acclaim.
---
The Magic Flute with Brno Philharmonic Orchestra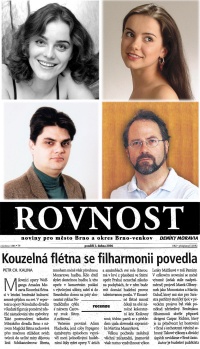 On 30th and 31st March 2006 in Besední dům took place two excellent performances of the Mozart Magic Flute, performed by the Brno Philharmonic Orchestra under the button of Caspar Richter. The concert version of Mozart opera was part of the "Mozart Ways" project, and both the concerts were warmly accepted by the audience, and received a big critical acclaim. It was mainly due to the excellent young soloists, who were Adam Plachetka as Papageno, Lenka Máčiková as Pamina, Martina Masaryková as Queen of the Night, Martin Gurbal' as Sarastro, Tomáš Kořínek as Tamino, Radka Sehnoutková as Papagena and Marek Olbrzymek as Monostatos. Eva Daňhelová, Jana Sobotková and Pavla Zbořilová were singing the three ladies. The soloists were perfectly accompanied by the singers of the Czech Philharmonic Choir of Brno, under the leadership of its chorus master Petr Fiala.
---
Piano soloist Igor Ardašev continues his successful cooperation with the National Orchestra of Malta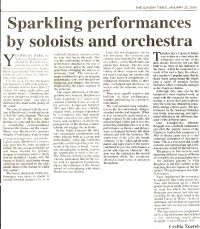 In January this year Igor Ardasev has been invited to play with the National Orchestra of Malta. Together with Maestro Michael Laus, Carmine Lauri (violin) and Mats Rondin (cello) they performed the Beethoven Triple Concerto at the Mediterranean Conference Centre in Valletta.
---
AFFETTO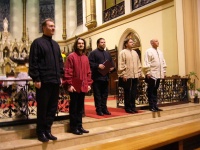 Vocal experimental ensemble AFFETTO has performed on Friday 10th March 2006 at the 22nd Sarajevo Winter Festival.
---