The Prague Radio Symphony Orchestra in the Spring on Lake Constance
The Prague Radio Symphony Orchestra performed in the cultural house of Count Zeppelin under the baton of its principal conductor Vladimir Válek the overture to Smetana's opera The Bartered Bride, Shostakovich's 1st Violin Concerto and Dvoøák's Symphony "From the New World".
The Violin Concerto allowed Sophia Jaffé, 3rd prize winner in the Queen Elisabeth International Competition in Brussels, to show her masterful brilliance. She is not unknown to the audience in Friedrichshafen as 5 years ago she first played here with this concerto.
A full house on the shores of Lake Constance welcomed this Slavic repertoire with pleasure and enthusiasm.

---
Prague Radio Symphony Orchestra had its premiere in Budapest's Palace of Arts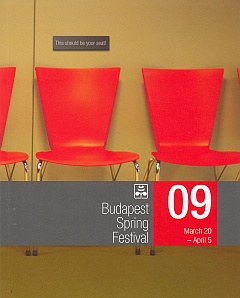 The Budapest Spring Festival this year chose the theme 'Czech Republic - our guest' and invited impressive Czech ensembles to perform. Headlining was the Prague Radio Symphony Orchestra with conductor-in-chief Vladimir Válek and famous violinist Dmitri Berlinsky. They performed a concert by Dvoøák and along with this piece the audience was treated to Smetana's Vltava and Martinù's 1st symphony. This concert by our leading orchestra sold out the huge Palace of Arts and added significantly to the concert season in Budapest.
---
Sophia celebrated by press and public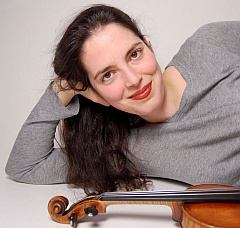 Sophia Jaffé produced wonderfully successful and enriching highlights at four concerts in Britain. She appeared with conductor Lothar Zagosek and the Konzerthaus Orchestra Berlin performing Beethoven's Violin concerto op. 61 from March 6th to 12th in the cities of Bradford, Basingstoke, Hull and in London's Codagon Hall.
At these concerts Sophia's extraordinary success was celebrated by both public and press. "A stunning performance by young violinist Sophia Jaffé was the highlight of the concert at The Anvil last week," began the article of Lucie Richards in the Basingstoke Gazette. The author admired her precise yet emotional play and her breathtakingly quick dexterity. The audience appreciated Sophia with lively and lengthy applause.
Two days after the final concert in Britain Sophia performed a program by Bach, Brahms, Ysaÿe and Ravel in the Luxemburg town of Marnach. Accompanied by piano player Bjoern Lehmann, Sophia shone and was greatly appreciated by the local audience.

---
The Linz audience warmly welcomed The Czech Chamber Philharmonic Orchestra Pardubice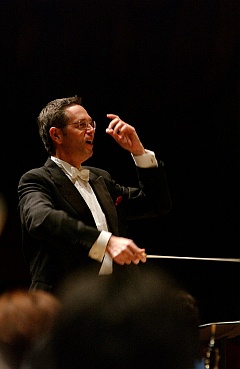 On the morning of March 1st the audience was drawn to the Grossersaal of Brucknerhaus in Linz. They were attracted not only by the interesting program, but also to become better aquatinted with The Czech Chamber Philharmonic Orchestra Pardubice and conductor Douglas Bostock. The soloist for Mozart's Concerto for Violin and Orchestra No. 1 was Sophia Jaffé and other featured compositions included those by Prokofiev, Martinù and Mendelssohn. The concert was a great success, playing to an almost full house. We believe that the orchestra will be invited to Linz again soon.

---
The Wallinger Quartet in Luxemburg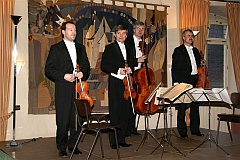 The second weekend in March Walllinger Quartet performed in concert series at chateau Bourlingster in Luxemburg. On the programme were quartets by F. Schubert, A. Borodin and M. Ravel. This very successful concert was under the auspices of the Czech ambassador in Luxemburg.
---
Standing ovation for Requiem by Dvoøák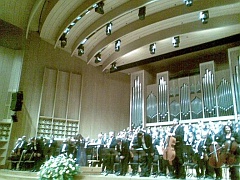 The festival Musica Sacra took place in the Austrian city of Linz which, this year, proudly holds the title Cultural City of Europe 2009. Held in Linz on March 24th in the concert hall Brucknerhaus, the festival opened with one of the most beautiful Requiems.
This last Dvorak choral work, Requiem op. 89 was created in 1890, at a time when Antonín Dvoøák celebrated his life's success and greatly enjoyed his work. It is unbelievable how he managed to immerse himself so deeply into such a gloomy mood to be able to compose this deeply beautiful Mass for the dead with which he completed his most fruitful period of composition. One year later Antonín Dvoøák personally introduced his mass for the first time in Birmingham.
Here in Linz, the Dvorak Requiem was performed by the Czech Philharmonic Choir of Brno (choirmaster Petr Fiala) and Brno Philharmonic Orchestra under the baton of Leoš Svarovský. Great Soloists such as soprano Adriana Kohútková, mezzo Karla Bytnarová, tenor Tomáš Èerný and bass Martin Gurba¾ were introduced to the audience.
In honour of this concert the organisers even hung up the flag of Czech Republic to celebrate the Czech artists and their composer.
The concert was huge success. Lots of the enthusiastic concert-goers heard this wonderful piece for the first time and their never-ending applause showed that they left this concert after an unforgettable musical experience. Everyone, including the orchestra, the choir, soloists and conductor will retain this special evening in heir hearts and minds for a long time.
Review in Germany for download.
---
Janáèek Music in the Netherlands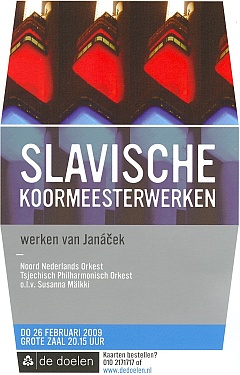 Last February week the concert goers in music hall De Doelen in Rotterdam and concert center De Oosterpoort in north Netherlands city Groningen have really had the unique opportunity to listen to the programme compiled of the music by great Czech composer Leoš Janáèek. The "whole Janáèek" programme was opened by Hukvaldy Songs followed by the suite of the opera The Excursion of Mr. Brouèek to the Moon (Netherlands première) and topped by Glagolitic mass in the second half. The programme was performed by Het Noord Nederlands Orkest under the baton of finish female-conductor Susanna Mälki, Czech Philharmonic Choir of Brno, Lada Biriucov – soprano, Jana Wallingerová – mezzo, Michal Lehotský – tenor and Martin Gurba¾ – bas. Both concerts were highly appreciated by the audience which awarded all performers by storm of applause.

---
Mácal conducted Mácha and Mussorgsky in Budapest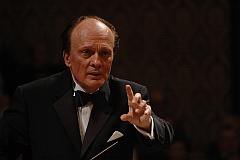 Budapest Palace of Arts and famous Liszt Academy were the venues for concerts of Budapest Festival Orchestra with Czech conductor Zdenìk Mácal, who returned to this orchestra after longer time again. The concert goers listened with deep interest to the music by Czech composer Otmar Mácha (Variations on the Death and Theme of Jan Rychlík), admired always great performance of Weber Clarinet concertino. No. 1 with Sabine Meyer and enjoyed the fantastic performance of Mussorgsky Pictures of an Exhibition. Long lasting and excited ovations after each concert gave the proof that excellent artists mix is the guarantee of the great result and unforgettable experience.
---
Czech Music sounded in the Balkans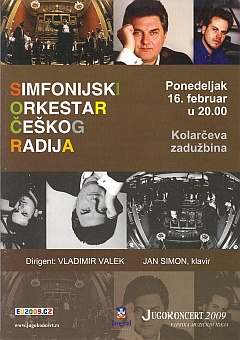 In mid – February 2009 Prague Radio Symphony Orchestra with conductor Vladimír Válek and pianist Jan Simon gave two concerts in Croatian Zagreb and Serbian Beograd. The audience in both capitals came to listen to wonderful music by Smetana, Chopin and Martinù. Both concerts had wonderful media coverage and also Serbian radio and TV recorded the entire program.
---
At the end of January the Prague Radio Symphony Orchestra reappeared in Spain after a long hiatus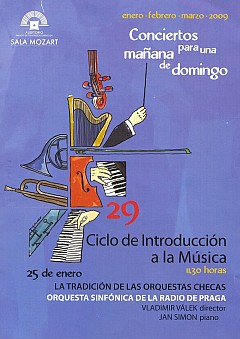 The orchestra, under the baton of its chief conductor Vladimír Válek and with the pianist Jan Simon, performed the music of Smetana, Chopin, Saint-Saëns and Dvoøák at four concerts in Asturian Aviles, metropolis of Aragonia Zaragoza, city Murcia and capital of Navarra Zaragoza. Long lasting applause after each concert evidenced the Prague Radio Symphony Orchestra's position as undoubtedly one of the most outstanding and important bodies in Spanish music.

---
Leoš Janáèek on a fairy tale trip to Hans Christian Andersen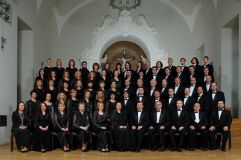 The first performance in the Kingdom of Denmark of the Glagolitic Mass was held in its third largest city, Odense. The Czech Philharmonic Choir of Brno presented this Czech masterpiece from January 20th to 23rd in two concerts under the baton of the well known conductor Bernard Klee accompanied by the Odense Symphony Orchestra. Alongside these excellent ensembles appeared soloists including Eva Døízgová-Jirušová, Jana Sýkorová, Michal Lehotský and Martin Gurba¾.
Odense has a population of 200 thousand and a fabulous concert hall with the capacity of 800. This hall was named after the most famous Danish composer of the romantic period, Carl August Nielsen, a contemporary of Leoš Janáèek. This beautiful hall has a wonderfully impressive sounding organ and is just few steps from the birthplace of Hans Christian Andersen.
The first association with Bernard Klee dates back to the year 2001, when he co-operated with the Czech Philharmonic Choir of Brno on a CD recording of the most famous opera choral works of Richard Wagner and Giuseppe Verdi. This CD was recorded in the system SACD for the American company Chesky Rekord. In 2008 the co-operation of the Odense Symphony Orchestra and this choir was nominated for the Danish press award for their recording of Die Weise von Liebe und Tod des Kornetts Christoph Rilke by Paul Klenau.
The keen concertgoers in the sold-out concert hall were excited by this wonderful performance and celebrated the musicians with a huge standing ovation.

---
The Czech Philharmonic Choir of Brno participated in a CD recording of the Requiem for a Young Poet by Bernd Alois Zimmermann

One of the most important releases of the last year, the recording of Bernd Alois Zimmermann's Requiem for a Young Poet was awarded a remarkable Preis der Deutschen Schallplattenkritik in January 2009 by the German Record Critics. On the recording of this unique composition by the late composer, written between 1967 and 1969, played a remarkable number of well known musicians. The Czech Philharmonic Choir of Brno was one of the ensembles that played a major part and contributed to this huge success.

---
Extraordinary aplaus for Brucker's Mottets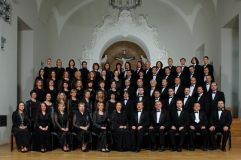 The Czech Philharmonic Choir of Brno performed together with three soloists; soprano Eva Daòhelová, alto Marie Vrbová and tenor Jakub Tuèek under the baton of conductor and Choirmaster Petr Fiala on January 17th in the church of St. Peter in Passau. The concertgoers appreciated greatly compositions by Gallus and Messiaen and especially Mottets by Anton Bruckner. A recording of the latter was awarded the ECHO Klassik 2007.
---
Sophia Jaffé's Bruch violin concerto success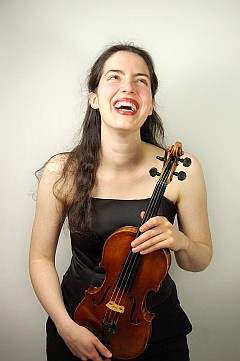 In Volkstheater Rostock Sophia Jaffé performed Bruch's Concerto in G minor on three successive evenings, December 21st, 22nd and 23rd. This concerto is considered to be one of the most remarkable of German romanticism, and it was the first co-operation between Sophia and Norddeutsche Philharmonie Rostock and the conductor Niklas Willén. This same programme Sophia performed on September 26th and 27th in Saalfeld and Rudolfstadt with the Thueringer Symphoniker orchestra under the baton of Oliver Weder, where she was also rewarded by the audience with standing ovations. The three concerts in Rostock were a very pleasant end to the 2008 concert year, all musicians were complimented by exceptional applause from the concertgoers who were carried home from these delightful concerts replaying the melodies in their heads and enjoying the peaceful Christmas evening atmosphere of Rostock.

---
Violin sonata, gentle and with feeling - Sophia Jaffé and Björn Lehmann in Wangen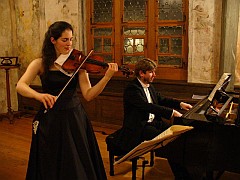 On December 12th Sophia Jaffé with her violin and the pianist Björn Lehmann in the Weberzunfthaus performed in Wangen.
On the programme for this grandiose evening were four demanding compositions; the concert opened with Bartók's Rhapsody for Violin and Piano Nr.1 followed by three selected Hungarian Dances by Brahms. Scherzo from the F.A.E. Sonata by Johannes Brahms opened the second part of the concert evening. Sophia Jaffé enthused the audience also with the technically very demanding Solosonate Nr. 1 by Ysaÿe.
With a huge applause the concertgoers celebrated Sophia Jaffé's virtuosity and musical sensibility for these compositions which she performed with perfection. Also the newspaper reviews admiringly talked about the expression of her performance.

---
Lada Biriucov's success under the baton of Valery Gergiev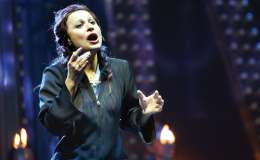 On January 6, 2009 soprano Lada Biriucov has performed Lisa in Tchaikovsky's The Queen of Spades at Teatr Wielki in Warsaw under the baton of Valery Gergiev.
The gala performance of Mariusz Treliñski's production of the Queen of Spades was her first cooperation with Valery Gergiev. Lada Biriucov is a regular guest of the Polish National Opera. She has already created Donna Elvira in Don Giovanni, Tatiana in Eugene Onegin and Turandot on this stage.
---
Moravian Christmas in Zagreb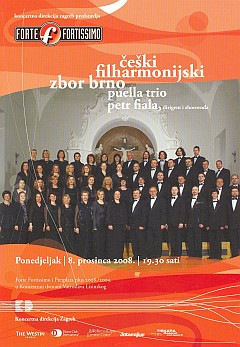 At the beginning of December the Czech Philharmonic Choir of Brno performed a very special Czech Christmas accented evening together with the Puella Trio and 3 soloists. The Puella Trio features Terezie Fialová on piano, the violin of Lenka Matìjáková and the violoncello of Markéta Vrbková, the 3 soloists were soprano Hana Raková, alto Marie Vrbová and tenor Jakub Tuèek. They were all drawn together under the button of the conductor and Choirmaster Petr Fiala in the Cultural Congress Hall "Lisinski" in Zagreb.
The concertgoers celebrated with warm applause their program where compositions by Gallus, Bruckner and Messiaen served as a wonderful introduction for the Czech Christmas Carols, arranged by Peter Fiala which made the evening a very special experience.

---
Rudolf Peèman, the founder of the International Music Festival Brno, has died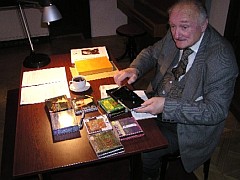 Musicologist professor Rudolf Peèman PhDr. DrSc. died suddenly on December 17th 2008 at the age of 77. His much admired publishing activities featured a devotion to Italian opera, oratorios from composers such as Händel and Bach. His name is also aligned with articles and studies about Ludwig van Beethoven and the period of romanticism.
Rudolf Peèman published and demonstrated his supremely cultivated written and spoken word in several music publications and lectures. His name is well known for public talks within the Little Theatre of Music and his articles were also featured in the published programmes of the Society of Friends of Music Brno.
As one of the founders of the International Music Festival Brno, now known as Moravian Autumn, the International Music Scientific Colloquium and the specialised magazine Opus Musicum his name is indelibly written in our culture, at home and abroad.
---
Eine beeindruckende Solistin - Ganz in sich versunken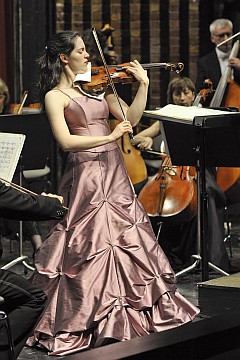 Die junge Sophia Jaffé versprühte mit Ihrer Violine Anmut und offerierte nicht allein akustisches, sondern auch ein optisches Gesamtkunstwerk. Sie satzte nicht auf virtuoses Showgehabe, sondern schien ganz mit ihrem Instrument verschmolzen. Dabei formte sie versunken kristallklar Arabesken, schien aber in anderen Stellen wie von Energie aufgeladen, um die geigerische Tour de force im Allegro assai vivace zu meistern.
Ihre Interpretation des Violinkonzertes in D Dur op. 35 von 1945 von Erich Wolfgang Korngold kann sich dabei durchaus mit der Sichtweise einer Hilary Hahn oder jüngst von Anne-Sophie-Mutter messen.
Das Alma Mahler Werfel gewidmete Werk leitete eine neue Schaffensphase des Oscar-Preisträgers Korngold ein. Dabei verleugnet keine Note seine Filmmusik-Vergangenheit in Hollywood. Daraus bedient er sich auch im Finalsatz mit der Hauptmelodie aus "Der Prinz und der Bettelknabe" (1937).
So verwandelte Sophia Jaffé das volkstümlich wirkende, rustikale Thema mit virtuoser Technik und klanglicher Variabilität zu einem Stück Film für die Ohren. Das Publikum feierte die Solistin mit Bravorufen. Sophia Jaffé sagte selbst ihre Zugabe an und spielte dann voller Hingabe und akkurater Artikulation das Fugato aus der 1. Solosonate des belgischen Geigenvirtuosen Eugen Ysaÿe, dessen Geburtstag sich in diesem Jahr zum 150 Mal feierte.
Oder "Sophia Jaffé überzeugte das Publikum durch höchste Virtuosität - Im ersten Satz bewies sie mit der souveränen Art einer vollendeten Virtuosin, dass die musikalischen Hürden an solistischer Technik im Werk selbst für sie kein Problem darstellten. Die faszinierende Hingabe Jaffé's zog sich ebenso durch die verbleibenden zwei Sätze.
Von der Zart gespielten Romanze bis in das verspielte Allegro des dritten Satzes konnte der Konzertbesucher Zeuge eines wunderbaren Klangerlebnisses werden. So wurde die Solistin in einem explosionsartigen Beifall eine Zugabe abverlangt, die ebenso begeistern konnte, wie das Werk Korngold's.
November 2008 von Uwe Kraus und Robert Hoffmann
(Quedlinburg November 11th, Nordharzer Städtebund, Johannes Rieger - conductor)
---
Successful co-operation of Sophia Jaffé with Dennis Russel Davies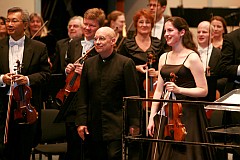 Violin star Sophia Jaffé's first co-operations with conductor Dennis Russel Davies produced very successful and enriching highlights in her concert season.
Sophia appeared next to him for the first time in Stuttgart on June 14th and 15th together with the Stuttgarter Kammerorchester playing R. V. Williams' "The Lark Ascending". Two months later on August 30th Sophia was again beside Dennis Russel Davies and celebrated by the audience at the prestigious Austrian festival Gmundner Festwochen. On the program for this grandiose evening was the technically very demanding Concerto for violin and orchestra No. 2 by Shostakovich, which she performed with perfection and extreme concentration accompanied by the Bruckner Orchestra Linz. Sophia was rewarded with exceptional applause by the concertgoers and received the plaudits of the newspaper Neues Volksblat. The headline "Smashing young violin player" introduced her as a star and admiringly talked about her technical perfection and the expression of her performance.
With the same program, conductor and orchestra, Sophia held absorbed the audience on October 4th in Brno at the final concert of the festival Moravian Autumn. The concertgoers in the Janáèek Theatre sat in awe of her play and made clear with their lengthy standing ovations that this concert will remain in heir hearts and minds for a long time.
---